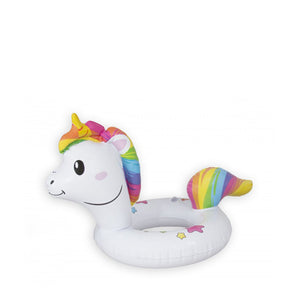 Heless Swimming Float for Doll – Unicorn
Normale prijs €10,00 €10,00 Sale
Enchanting unicorn swimming ring from Heless for dolls.
The inflatable swimming ring, which represents the body of the unicorn, is designed in white with rainbow colors and provided with a funny unicorn head. Suitable for dolls of 35-45cm also for the Paola Reina Gordi baby dolls. The Paola Reina baby dolls are available separately in the shop.
When playing with dolls, the social behavior of the child is trained and by putting on and taking off the clothes the motor skills are promoted.
Product details:
Age: 3 years+.
Material: PVC.
Size: W:36 x H:20cm, the inner hole where the doll is pushed through is about 9.5 cm tall.
The company Heless, located in Schwetzingen, Germany, has been producing toys for over 60 years.