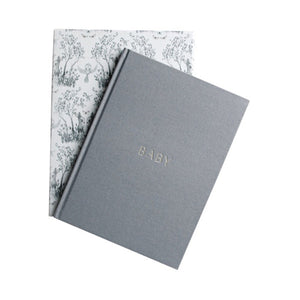 Write To Me x Mrs Mighetto Baby Journal
Normale prijs €45,00 €45,00 Sale
Mrs. Mighetto x Write To Me have come together to bring you a truly beautiful limited edition baby journal collaboration.
This baby journal is presented in a gold embossed, linen keepsake box covered and lined in Mrs. Mighetto whimsical baby illustration. The gender neutral journal also features end papers by Mrs. Mighetto and is designed with Write To Me's classic, elegant and timeless layout in a birth to five years journal.
Record the first step, first word, first tooth, first haircut, first birthday and more with this beautiful gender neutral journal. With generous space for memories, photos and milestones from pre-birth through to pre-school, this guided journal will become a cherished keepsake of a treasured time. Created for non-gender specific baby, parents and grandparents.
Features
• Linen hard cover keepsake box, gold embossed title. Covered and linen in Mrs. Mighetto whimsical illustration.
• Beautiful grey linen hard cover, case bound with a gold embossed title and spine
• Guided journal with prompts throughout to help you write down the details of each special moment
• 120gsm paper stock internal pages (FSC)
• 96 pages
• 210 x 285 x 13mm
• Mrs. Mighetto illustrated end papers 
• Contents page with page numbers - see below sample
• We recommend photos dots, double sided tape or acid free washi tape for sticking photos 
• Designed in Melbourne, Australia
• Mrs Mighetto own the copyright of their illustration. Write To Me own the copyright of this journal. 
Table Of Contents
Baby Photo | P3 
My Parents | P4 
My Siblings | P6 
My Home & Pets | P7 
The Pregnancy | P8 
Baby Shower | P10 
My Birth | P12 
My Name | P14 
The Year I Was Born | P15 
Hospital Time | P16 
My Grandparents | P18 
My Aunts & Uncles | P20 
One to Twelve Months | P22-45 
Celebrating Me | P46 
My First Birthday | P48 
My First Holiday | P52 
My First Christmas | P54 
My First Haircut | P58 
My First Steps | P59 
All My First | P60 
My Teeth | P64 
Funny Things I Said | P66 
One To Five Years Old | P68-87 
Pre-School Days | P90 
Journal | P94 
A Gift For Me | P96