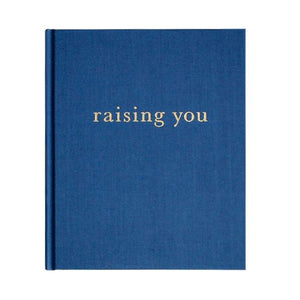 Write To Me Raising You - Letters To My Baby • Blue
Normale prijs €35,00 €35,00 Sale
Raising You is a place to write to your child. It is lined and unprompted so that it can be filled out when and how you would like your memories to be documented. A letter a month or when you feel the urge to tell a story or remember special moments. A journal for parents or grandparents to keep their thoughts and wishes and create a special keepsake to pass down.
Beautiful linen cover with gold embossed title. 96 lined pages and illustrated end papers.
Features:
Beautiful linen hard cover, case bound with a gold embossed title and spine

120gsm paper stock internal pages (FSC)

96 lined pages

Journal measures 230mm x 190mm

Illustrated end papers 

Designed in Melbourne, Australia
Write To Me own the copyright of this journal.