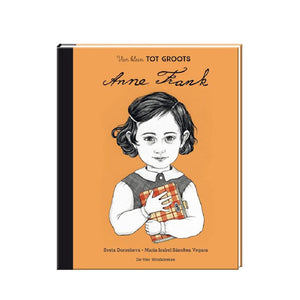 Van Klein tot Groots – Anne Frank – Dutch
Normale prijs €15,00 Sale
1 op voorraad
Merk: De Vier Windstreken
Little people, BIG DREAMS.
(Frankfurt, 12 June 1929 - Bergen-Belsen, February 1945).
Anne Frank was a German girl of Jewish descent who went into hiding during the Second World War for fear of the Nazis. She wrote down her experiences in a diary, until after two years she was discovered and taken to a concentration camp. She died there, just a few weeks before the end of the war. Her diary has been translated into more than 70 languages and gives a voice to more than one million children who died during the Holocaust.
The series 'Van Klein tot Groots' focuses on women who had a dream as a little girl and eventually saw that dream come true. This part is about Anne Frank who wanted to become a writer and eventually became world famous through her diary. It is striking that the illustrations in this part are almost entirely black and white; it is significant that only the diary is shown in color, in a red-brown spot color. The drawings sometimes look somewhat old-fashioned, but the drawing style fits well with the subject and increases the impact of the story. It is therefore possible that something cream-colored paper was chosen. The appealing illustrations on double pages contain short texts of three to four short sentences in which the story of Anne Frank is told globally.
Product details:
Age: 4 years +.
Author: Maria Isabel Sánchez Vegara and co-author Sveta Doresheva.
Size: 24,8 x 20,2 x 1 cm.
Language: Dutch.
Pages: 32.