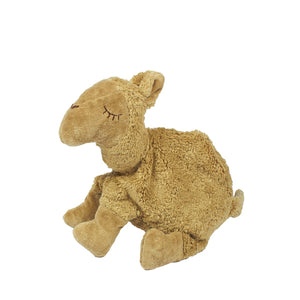 Senger Naturwelt Cuddly Animal / Heat Cushion - Camel Small
Normale prijs €55,00 Sale
Small Cuddly Camel by Senger Naturwelt is a cuddly toy and warming pillow in one.
This small cuddly camel is a soft and huggable toy your child is sure to love. And you'll love that he is made from all natural and organic fibres. This cute camel also double as a pillow - featuring a small removable cotton cushion filled with cherry pits, thus turning into a heating or cooling pad.
Outer made from hand picked organic cotton plush. Head and feet of the camel is filled with pure sheep's wool.
Product details:
Size: 25 x 29 x 5.5 cm.
Material: 100% ecological cotton plush, sheep wool, removable cotton cushion filled with cherry pits.
Care: Hand washable, don't wring,spin dry or tumble dry.
Made in Germany.
Senger Naturwelt makes timeless cuddly soft toys that are handcrafted in Germany with the utmost sensitivity to quality of workmanship. Senger only use sustainably sourced natural materials of the highest standard. They believe that the first toy in your life is special and is not replaceable - these are toys that are meant to last for a lifetime and are sure to become a treasured family keepsake.