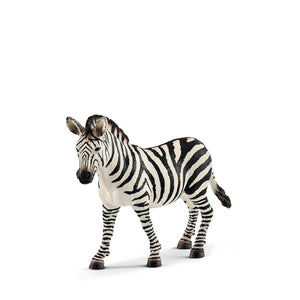 Schleich Zebra – Female
Normale prijs €9,00 €9,00 Sale
Zebra female toy figurine from Schleich.
Zebras live in the African savannah and belong to the horse family. Each zebra has a unique fur coat pattern consisting of black and white stripes. Even its mane is striped. The pattern provides camouflage, confuses predators, protects against mosquitoes, makes the heat more bearable, and helps the animals to recognise each other.
Fun fact:
Chimpanzees are one of the only animals to recognise themselves in a mirror.
Product details:
Age: 3 years+.
Size: 12 x 3,2 x 8,5cm ( w x d x h ).
Material: Plastic, hand painted.
These include the European Toy Safety Directive 2009/48/EC, DIN EN 71 and the international Standard Consumer Safety Specification for Toy Safety ASTM F963-2008.