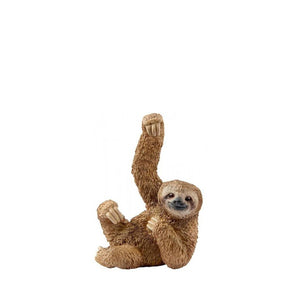 Schleich Sloth
Normale prijs €7,00 Sale
2 op voorraad
Sloth toy figurine from Schleich.
The sloth spends almost its entire life in the trees of tropical rainforests. Its curved claws give it a firm grip on the branches of the trees. Since it always hangs from the branches upside down, the sloth's fur grows from its belly towards its back, instead of growing from its back or head. This allows rainwater to drain away better.
Fun fact:
A sloth's claws look like meathooks and grow to a length of 10–12 cm.
Product details:
Age: 3 years+.
Size: 4 x 3 x 6,2 cm ( w x d x h ).
Material: Plastic, hand painted.
These include the European Toy Safety Directive 2009/48/EC, DIN EN 71 and the international Standard Consumer Safety Specification for Toy Safety ASTM F963-2008.
Schleich number: 14777.
Founded in 1935 by Friedrich Schleich in Schwäbisch Gmünd, Schleich is one of the biggest toy manufacturers in Germany today and the leading international provider of realistic animal figures.
At Schleich they believe that promoting creativity and a rich imagination is one of the most valuable gifts you can give a child. The best part of it is: a child's creativity as well as their imagination develop almost by themselves with the right playing concepts.