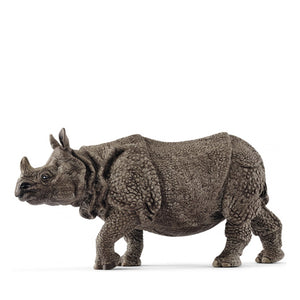 Schleich Indian Rhinoceros
Normale prijs €9,00 €9,00 Sale
2 op voorraad
Rhino toy figurine from Schleich.
The Indian rhinoceros lives in Northeast India. Its thick folds of skin make it unmistakable, as though it were wearing thick armour. Contrary to its African relatives, however, it is very calm and peaceful. It spends most of its time eating grass, twigs, leaves, branches, and fruits.
Fun fact:
Under their fur, polar bears have black skin. It stores the heat from the sun.
Product details:
Age: 3 years+.
Size: 14,7 x 7,7 x 6,3 cm ( w x d x h ).
Material: Plastic, hand painted.
These include the European Toy Safety Directive 2009/48/EC, DIN EN 71 and the international Standard Consumer Safety Specification for Toy Safety ASTM F963-2008.