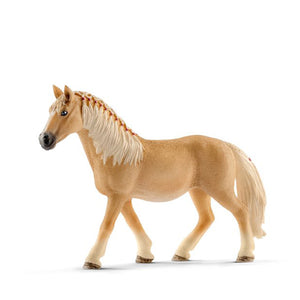 Schleich Horse - Haflinger Mare
Normale prijs €9,00 Sale
3 op voorraad
Haflinger mare toy figurine from Schleich.
Haflingers are extremely gentle, versatile and intelligent. It's love at first sight for most horse fans when they see their beautiful, sorrel-coloured coats and blonde manes.
Haflingers are regularly ranked among the top ten most popular horse breeds in the world. They are extremely attractive, robust little mountain horses that can stay out on the pasture all year long and have straightforward dietary requirements. In addition, they are extremely placid and patient, which makes them especially popular with beginners to riding and children. Thanks to their friendly, reliable and even-tempered character, they are even often used as therapy horses.
Fun fact:
Haflinger mares can give birth to healthy foals even at the age of 25.
Product details:
Age: 3 years+.
Size: 13,4 x 3,2 x 9,8 cm ( w x d x h ).
Material: Plastic, hand painted.
These include the European Toy Safety Directive 2009/48/EC, DIN EN 71 and the international Standard Consumer Safety Specification for Toy Safety ASTM F963-2008.
Schleich number: 13812.
Founded in 1935 by Friedrich Schleich in Schwäbisch Gmünd, Schleich is one of the biggest toy manufacturers in Germany today and the leading international provider of realistic animal figures.
At Schleich they believe that promoting creativity and a rich imagination is one of the most valuable gifts you can give a child. The best part of it is: a child's creativity as well as their imagination develop almost by themselves with the right playing concepts.