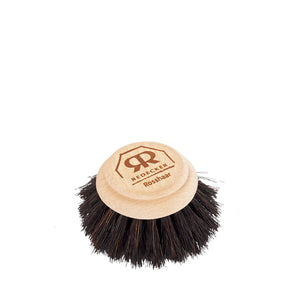 Redecker Dish Brush Replacement Head - Horse Hair
Normale prijs €3,50 Sale
6 op voorraad
Handy replacement head for your Redecker dish brush allows you to reuse and extend the life of your handle.
Available in both styles of bristles under the Redecker brand, hard tampico fibers for cleaning tough messes on plates and pans or soft horsehair for effectively removing debris from delicate cookware and elegant tableware.
Available in 2 sizes:
Ø 4cm
Ø 5cm

Looking for the full dish brush? Find it here.
Product details:
Size: Ø 4cm or 5cm.
Material: Natural untreated beechwood, horse hair.
Care: For maintenance, use lukewarm water; towel blot to remove excess moisture and air dry.
Made in Germany.
The first handcrafted Bürstenhaus Redecker brushes were produced in 1935. A lot has changed since then. Today, the name Bürstenhaus Redecker stands as it has for many years for an ideal combination of natural quality, function and design. It lives from the blend of inventiveness, sound craftsmanship and creativity. Handcrafted in Germany, Bürstenhaus Redecker brushes are made of domestic woods, bristles, hair, and plant fibers, and have been for decades. Precedence is given to natural, sustainable raw materials.