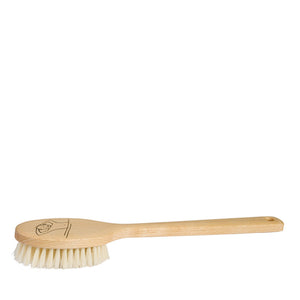 Redecker Children's Bath Brush
Normale prijs €14,00 Sale
2 op voorraad
Wooden bath brush with handle by German company, Redecker.
Beautifully hand crafted from waxed beechwood and bearing a charming child motif, this light bristle children's bath brush will gently remove the residue from a hard day's play!

Product details:
Size: 29cm.
Material: Waxed beech wood with light bristle.
Made in Germany.
The first handcrafted Bürstenhaus Redecker brushes were produced in 1935. A lot has changed since then. Today, the name Bürstenhaus Redecker stands as it has for many years for an ideal combination of natural quality, function and design. It lives from the blend of inventiveness, sound craftsmanship and creativity. Handcrafted in Germany, Bürstenhaus Redecker brushes are made of domestic woods, bristles, hair, and plant fibers, and have been for decades. Precedence is given to natural, sustainable raw materials.