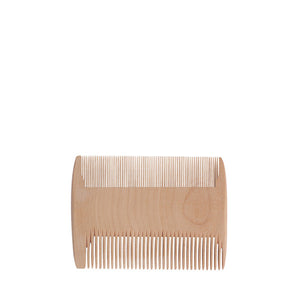 Redecker Baby Comb / Nit Comb
Normale prijs €20,00 €20,00 Sale
1 op voorraad
Treat your baby's scalp with the delicate touch that it deserves with this baby comb from Bürstenhaus Redecker.
Great for everyday hair care for your newborn. This comb is perfect for getting rid of cradle cap on newborn babies. The dual head allows you to comb your baby's scalp in the way most comfortable for your child.
Product details:
Size: 8,5 x 6cm.
Material: Checker wood/ service tree.
Made in Germany.
The first handcrafted Bürstenhaus Redecker brushes were produced in 1935. A lot has changed since then. Today, the name Bürstenhaus Redecker stands as it has for many years for an ideal combination of natural quality, function and design. It lives from the blend of inventiveness, sound craftsmanship and creativity. Handcrafted in Germany, Bürstenhaus Redecker brushes are made of domestic woods, bristles, hair, and plant fibers, and have been for decades. Precedence is given to natural, sustainable raw materials.