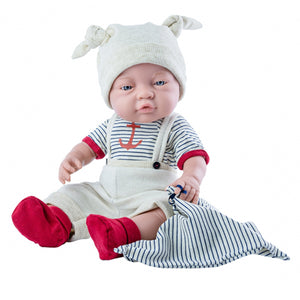 Paola Reina Doll - Bebitos Boy Maritime
Normale prijs €49,00 €49,00 Sale
1 op voorraad
Bebitos by Paola Reina are gorgeous all vinyl newborn baby dolls.
The material with which it is made has a softer touch and smell to resemble a baby more. They are anatomically correct and are sculpted beautifully with baby creases and sweetly shaped baby fingers....  This doll wears a blue striped shirt, a hat and beige knitted suit. And the red print on his shirt goes with the red details of this suit. He has a striped cuddle cloth to complete the suit.
Product details:
Age: 3 years+.
Eye type: Blue/Fixed.
Size: 45cm/17,5".
Hair: Bald/Moulded.
Clothing: Suit (beige), baby shoes (red), hat (beige), cuddle cloth (beige/navy) and shirt (beige/navy/red).
Paola Reina dolls are entirely hand crafted in Spain using only the finest European materials, designed with the heart and made with love. Paola Reina's dedication to high quality dolls can be seen in each doll's angelic hand painted facial features, eloquent sparkling eyes, lush hair and eyelashes, detailed clothes and accessories. The vinyl dolls are soft to the touch, yet durable allowing the dolls to withstand all the love and adoration given to them. Paola Reina creates dolls that every child can identify with, regardless of gender, race and culture. Paola Reina dolls are the cherished companions of children around the world, with their unparalleled quality also making them trusted by parents and the perfect addition to any doll collection.