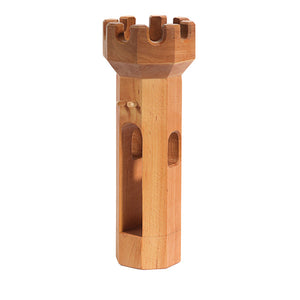 Ostheimer Round Tower
Normale prijs €99,00 €99,00 Sale
Ostheimer Round Tower - The Ostheimer wooden toy castle is designed in deliberately simple, pared back forms that allow children to imagine and create their own magical worlds.
Add the stunning Ostheimer connection bridge to the top of your round towers for a more complete castle finish. Stand the Ostheimer knights upon the bridge to defend the castle.
Wooden castle pieces can be collected and added to over the years. As with all Ostheimer wooden toys, each piece is hand-crafted and finished in walnut oil for a hard-wearing, tactile feel.
Product details:
Age: 3 years+.
Made in: Germany since 1940.
Size: 38 x 14,5 x 10cm approx. Because this is a handcrafted item, shape and size may vary slightly.
Material: Alder wood finished with natural oils.
Margarete Ostheimer, a Waldorf (Steiner) teacher, began a collection of toys which enliven the imagination. In her own words: "It is the fantasy of our children alone that breathes life into the seemingly stiff wooden figures, the form and colour of which purposely have been reduced to an essential minimum. It is apparent how little coaching our children need to dive into their worlds."