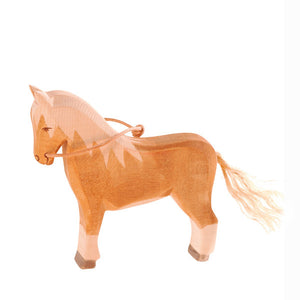 Ostheimer Horse - Haflinger (with bridle)
Normale prijs €32,00 Sale
Horse fanatics will adore this hand carved and painted Haflinger horse from Ostheimer.
With it's beautiful mane and tail and regal air, children are going have lots of fun playing with this friendly horse. Play with as part of a farm small world scene or individually with a rider where the rider can hold onto the lovely leather reins. A great addition to an animal collection.
Team with the Ostheimer Stage Coach for a truly magical mode of transport for your small world people. 
Every Ostheimer figure is sanded, painted with non-toxic stain, and varnished by hand, a process which ensures that each one is absolutely unique.
Margarete Ostheimer, a Waldorf (Steiner) teacher, began a collection of toys which enliven the imagination. In her own words: "It is the fantasy of our children alone that breathes life into the seemingly stiff wooden figures, the form and colour of which purposely have been reduced to an essential minimum. It is apparent how little coaching our children need to dive into their worlds."
Slight differences in colour and slight deviations in the structure of the grain contribute to the special charm and uniqueness of Ostheimer figures.
Product details:
Age: 3 years +.
Made in: Germany since 1940.
Size: H.13 x W.13cm (excl. tail).
Material: This figure is handcarved and -painted using natural wood and nontoxic colors that conform with the stringent European toy safety standard EN71.