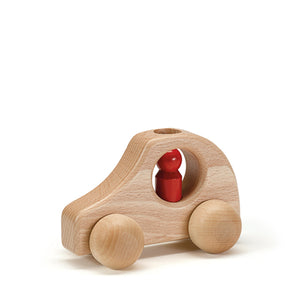 Ostheimer Car with 1 Man - Natural
Normale prijs €24,50 Sale
1 op voorraad
Push, pull, pretend... This simple wooden car in natural finish with one red wooden passenger is a perfect first toy for a young toddler.
A push along car from the "Konrad Keller Collection" from Ostheimer with one peg person - load everyone onboard and set out on a journey. Little hands will love taking the peg person out of the car and putting it back into his seat. This wooden car is made from solid basswood with a natural finish, has a circular window and wheels to drive it away. The peg passenger get on and off the car through the roof.
Hand crafted from solid, sustainable hard wood. Warm, smooth and tactile, this car feels lovely and smooth in children's hands. 
Product details:
Age: 1 years +.
Size: 13,5 x 9 x 7cm.
Material: Basswood.
Conform European Safety Norm EN71.
Made in Germany. Konrad Keller Holzspielwaren since 1864. Ostheimer since 1940.
Margarete Ostheimer, a Waldorf (Steiner) teacher, began a collection of toys which enliven the imagination. In her own words: "It is the fantasy of our children alone that breathes life into the seemingly stiff wooden figures, the form and colour of which purposely have been reduced to an essential minimum. It is apparent how little coaching our children need to dive into their worlds."