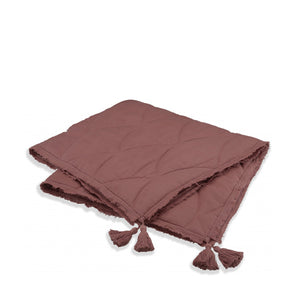 Konges Sløjd Muslin Baby Quilt – Cedar Wood
Normale prijs €90,00 €54,00 Sale
2 op voorraad
Beautiful baby quilt by Konges Sløjd.
Konges Sløjd's exclusive quilted blanket is made with love of the finest and softest organic cotton in the colour Cedar Wood, which is soft, warm and timeless.
Wrap your baby, use it as a bedcover or simply as a play blanket for your baby.
Product details:
Color: Cedar wood.
Measurement: L.120 x W.120cm.
Material: 100% organic cotton.
Konges Sløjd is founded by Emilie Konge Breindal in 2014 in Copenhagen. 
Konges Sløjds design philosophy is to make stylish baby essentials, children's interior products and clothing in a sustainable way with high-quality, environmentally-friendly materials. All this to bring joy to the little ones and at the same time make visual sense to the parents.