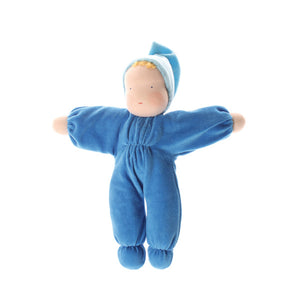 Grimm's Soft Doll - Blue
Normale prijs €48,50 €48,50 Sale
Handcrafted blue Waldorf doll from Grimm's.
Exceptional quality doll wearing a blue onesie with a matching cap. This soft doll is perfect for small hands to hold and snuggle, and will be treasured for years to come. The very lovely face is painted by hand, giving each doll an unique expression. Grimm's dolls are made in Europe in the traditional handcraft method.
Product details:
Age: 0 years +.
Size: Height 30cm approx.
Material: Certified fabrics according to Oeko-Tex Standard 100.
Care: Please only clean Grimm's dolls with hand wash. Please be careful by washing the face. The colours of the face are water-resistant, but they can fade.
Please note that because of each doll is handmade, therefore the doll can slightly be differ from the picture.
Grimm's is a family driven and sustainable managed manufacturer since 1978, producing safe and high quality toys at the foot of the Swabian Alb in Germany. In product development and design, they are guided by Waldorf education and other reform pedagogical approaches such as Montessori. Their more minimalist approach in designing toys leaves plenty of room for the development of children's fresh creativity. New fantastic worlds can be continuously created, keeping pace with children's natural, healthy development.
Children and adults alike are drawn to the brilliant colors and beautiful unvarnished wood surfaces. The bright color glaze and plant based oils preserve the living surface of the wood in structure and feel. The result is a typically rough yet velvety wooden surface which contributes to greater play value, especially for building components.