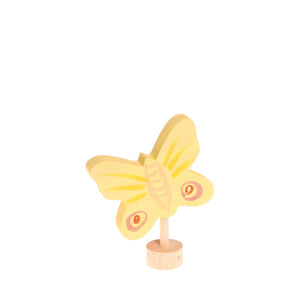 Grimm's Decorative Figure - Yellow Butterfly
Normale prijs €5,30 €5,30 Sale
2 op voorraad
This decorative yellow butterfly wooden figure is perfect for adorning your Grimm's celebration ring.
Grimm's wooden decorative figure is an authentic decoration for any special day. The birthday plug from sustainable lime wood give the celebration and the birthday ring an individual character.
The variety of decorative figures from Grimm's meets personal characteristics and preferences. You can vary infinitely with the figurines of your choice for every special day or occasions.
Product details:
Size: Height 7cm approx.
Material: Handpainted lime wood, non-toxic water based color stain.
Note: This toy is a decorative article, not a toy!
Grimm's Spiel & Holz develops toys since 1978 that help children discover their own creativity through simple shapes that leave room for the imagination and open-ended play.
Wood is a natural material and as such, has various unique markings. Variations in wood grain, color, knots, texture or dye transfer are all natural occurrences in these hand-stained wooden products. These unique variations and markings are proof of quality, not defects. Enjoy the markings that make your Grimm's toy unique!