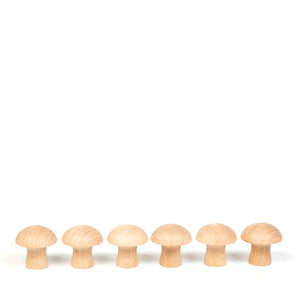 Grapat 6 Mushrooms - Natural Wood
Normale prijs €12,50 Sale
1 op voorraad
Six natural wood mushrooms showing the natural beauty of wood by Grapat. 
These Grapat mushroom shaped wooden pieces are simple but open-ended toys that can be used for games, counting, sorting, stacking and playing. These wooden toy mushrooms make fantastic educational Montessori toys. They provide a brilliant visual aid for sorting, dividing, adding and other crucial maths skills. Watch as your child includes them in their natural, imaginative play games, from cooking up something tasty to eat, to creating homes into a magical world of dwarves, gnomes and fairies. Combine with Grapat Nins® or other wooden peg dolls, Grapat rings and block sets.  
Younger children will love the smooth wood of these mushrooms - they are a lovely addition to your natural treasure baskets.
Product details:
Age: +12 months.
Size: H 4,5cm.
Material: The wood comes from sustainable forests, waxed. 
Care: Can be wiped with a damp cloth and dry immediately. The pieces should not be submerged in water nor should disinfectant be used..
Each piece that passes through your hands is unique. We understand the "imperfections" of wood as characteristics that make each piece unique. It is beautiful and makes the material even more valuable..
Article manufactured under the safety standard EN71.
Made in Catalunya, Spain.
GRAPAT is a family run company from Spain that provides material without instructions, Open-ended and favors free and autonomous play. Their only premise is to let children play, slowly, without time limits. They suggest material that encourages, invites and stimulates the creation of several fantastic, realistic and invented little worlds. It is made following traditional processes, in the old way, with thick soft raw materials, natural dyes which let the wood veins be seen and vibrant coloured waxes and oils that slightly shine. The products are painted by hand, homemade, surrounded by land, fire, rivers and many children nearby, who inspire them daily.
Welcome to Grapat, and happy game!