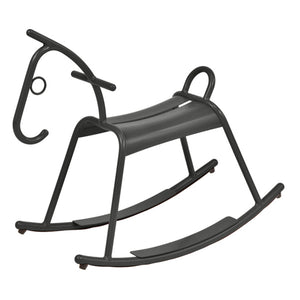 Fermob Rocking Horse Adada - Liquorice
Normale prijs €227,00 €227,00 Sale
Fermob Adada rocking horse that parents will love for its modern design, and children won't be able to resist jumping aboard — Giddy up!
This fun rocking horse chair has a light weight frame (weighs 2.5 kg) and has plastic pads to help protect hard floors from getting scratched making it suitable for both indoors and outdoors.
This unusual quadruped is available in a variation of fresh colors.
Product details:
Age: 10 months +.
Size: H. 67 x D. 76cm.
Material: Aluminium frame, plastic pads, very high protection treatment for outdoor use and anti-UV powder coating.
Weight: 2,5 kg.

The French company Fermob is the specialist in the field of design garden furniture. Fermob is best known for its garden chair Luxembourg. This world-famous design from 1923 for the Paris city park Jardin du Luxembourg received a make-over from designer Frédéric Sofia in 2003 and now consists of a complete Luxembourg series. Less known is that Fermob is an example for sustainable production. Their light and strong metal furniture is made from recyclable or recycled material. A powder coating of ecological paint means that the garden furniture can stand outside all year round. Fermob's way of painting is therefore equivalent to the way in which cars are painted. Just as strong and in the most beautiful colors.