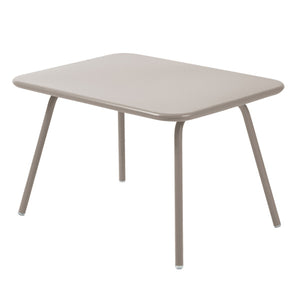 Fermob Children's Table Luxembourg Kid - Nutmeg
Normale prijs €279,00 €279,00 Sale
1 op voorraad
A table for three to six year olds to match the child version of the Luxembourg chair from Fermob.
This practical piece of furniture can be moved with ease from one corner of the house to the other, one moment serving as a desk in the bedroom, the next as a table for tea in the kitchen, and the next as the setting for an art workshop in the garden. 
The Luxembourg children's garden table has a light frame, made of aluminum and you can choose from a variation of fresh colors. The colors will also remain sparkling because the design garden furniture from Fermob has a UV powder coating. The corners of Fermob's Luxembourg Childern's Table are rounded to allow you to sit comfortably for hours.
Product details:
Age: 3-6 years.
Size: H. 47 x W. 76 x D. 55,5cm.
Material: Steel tube frame and steel table top, silencing pads, very high protection treatment for outdoor use and anti-UV powder coating.
Weight: 8,5 kg.
Furniture requires assembly.

The French company Fermob is the specialist in the field of design garden furniture. Fermob is best known for its garden chair Luxembourg. This world-famous design from 1923 for the Paris city park Jardin du Luxembourg received a make-over from designer Frédéric Sofia in 2003 and now consists of a complete Luxembourg series. Less known is that Fermob is an example for sustainable production. Their light and strong metal furniture is made from recyclable or recycled material. A powder coating of ecological paint means that the garden furniture can stand outside all year round. Fermob's way of painting is therefore equivalent to the way in which cars are painted. Just as strong and in the most beautiful colors.