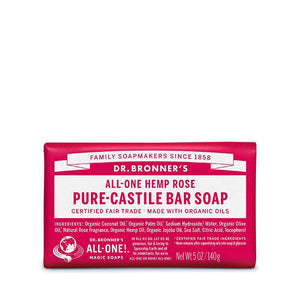 Dr. Bronner's Pure-Castile Bar Soap - Rose
Normale prijs €7,50 Sale
2 op voorraad
Floral and fresh, with a hint of sweetness!
Dr. Bronner's Rose Pure-Castile Bar Soap is made with certified fair trade ingredients and organic U.S.-grown hemp oil for a soft, smooth lather that won't dry your skin. 100% biodegradable in a 100% post-consumer recycled wrapper.
Suggested uses:
Dr. Bronner's Pure-Castile Bar Soaps are biodegradable-vegan, gentle and versatile, good for washing body, face or hair! Enjoy only 2 cosmetics, enough sleep & Dr. Bronner's Magic Soaps to clean-body-mind-soul-spirit instantly uniting One! All-One!
Product details:
Content: 140 gram.
Ingredients: Organic Coconut Oil, Organic Palm Oil, Sodium Hydroxide, Water, Organic Olive Oil, Natural Rose Fragrance, Organic Hemp Oil, Organic Jojoba Oil, Sea Salt, Citric Acid, Tocopherol.
*CERTIFIED FAIR TRADE INGREDIENTS
**None remains after saponifying oils into soap & glycerin.