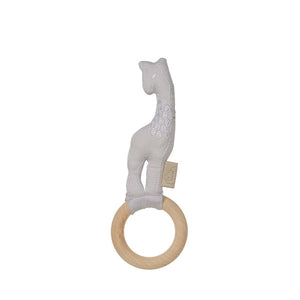 Cam Cam Copenhagen Giraffe Rattle - Classic Grey
Normale prijs €18,00 €9,00 Sale
1 op voorraad
Charming rattle shaped as a small giraffe from Cam Cam Copenhagen.
The handmade giraffe rattle comes with a beautiful detailed embroidery which gives the toy a stylish look. The wooden ring is easy for the baby to hold. The giraffe rattle has a small jingle bell inside. The rattle is handmade and therefore the look may vary slightly from the picture.
Product details:
Age: 0+ year.
Size: 16 cm, wooden ring Ø 6cm.
Quality: 100% Organic Cotton with natural wood. CE-certified - OCS - Made with 95% Organically Grown Material.
Category: OCS-certified (ETKO 4401).