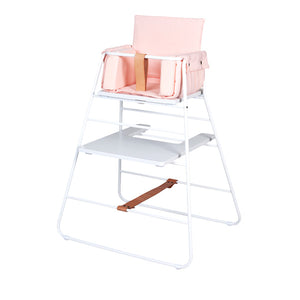 BudtzBendix TOWERblock - RosyPeach
Normale prijs €58,00 €58,00 Sale
1 op voorraad
Pair of thick soft cushions for young babies to create a more enclosed space in your TOWERchair from BudtzBendix.
The cushions and the tray make a great team - and together they shape a special little place for the baby to take part of family meals and other activities by the dining table.. The Rosy Peach color is a favorite especially between little ladies. 
NB! WE RECOMMEND BABIES BETWEEN 0-3 YEARS OLD TO ALWAYS USE A CUSHION, TOWERBLOCK & BUCKLE UP (available separate) FOR SECURITY REASONS.
Product details:
Size: Fits the TOWERchair (block: 20 x 15 x 4 cm).
Material: Cotton, soft foam padding.
Color: Rosy peach.
Care: Removable cover.
Conforms to CE standards.