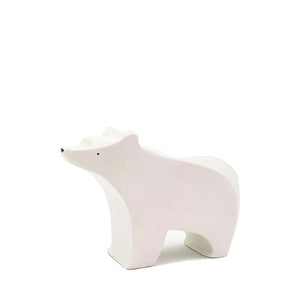 Brin d'Ours Polar Bear
Normale prijs €17,50 Sale
This beautiful Polar Bear handcrafted by Brin d'Ours is a delightful addition to any animal and small world play collection, also double as sweet decor around the home. 
Handcrafted in France using local untreated wood and dyed with paints derived from vegetables and minerals. 
Product details:
Age: 3 years+.
Size: 11 x 7cm approx.
Material: Local untreated wood and dyed with natural pigments. This item is handmade; therefore it may have colour variations and slight imperfections. These imperfections are inherent to handcrafted items and enhance the natural beauty of the material.
CE certified for safety with age 3+.