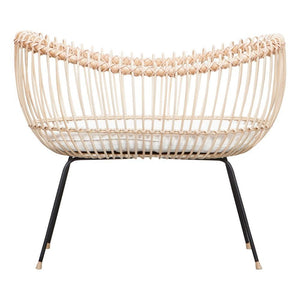 Bermbach Handcrafted Crib - Lola
Normale prijs €885,00 Sale
Beautifully shaped rattan crib Lola from BERMBACH Handcrafted.
The room bed Lola stands on a filigree metal frame. It appears light, almost floating, which makes it a decorative accessory of a modern living style. Small feet made of mango wood ensure an even and gentle floor support.
The weave of the basket offers transparency allowing the little one to get the best views of everything going on all around. Firmly laced leather straps provide additional stability while a thin wooden floor on the underside connects the main body with inconspicuous screws to the fine latticed yet extremely stable underframe.
Mattress (optional):
KBA-certified ecological mattress (84 x 51 x 6 cm).
Product details:
Age: Newborns and babies up to one year old.
Size: length: 103 cm / width: 60 cm / height: 86,5 cm.
Material: Rattan, steel and mango wood.
Note: For a shipping quote of the LOLA crib outside the NETHERLANDS please send us an email: info@elenfhant.com before placing an order.