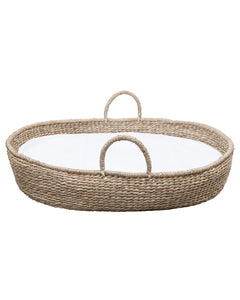 Bermbach Handcrafted Changing Basket - Frida
Normale prijs €319,00 Sale
2 op voorraad
Made from 100% natural seaweed, the FRIDA changing pad from BERMBACH Handcrafted is a natural and ecological accessory for changing baby's diapers.

The material is braided by hand and is as supple as it is stable. The slightly higher side edges prevent the baby from falling out. The carrying handles on the long side complete the design and make handling easier for the parents.
Mattress (optional):
KBA-certified organic mattress, ecological moisture protection (63 x 76 x 4 cm).
Product details:
Age: Newborns/babies up to 6 month of age.
Size: length: 80 cm / width: 54 cm / height:17 cm.
Material: 100% natural seaweed.