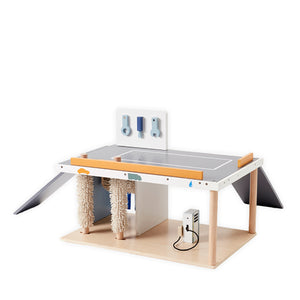 Kid's Concept AIDEN - Service Center
Normale prijs €64,00 €64,00 Sale
Aiden service center with car wash and gas station from Kid's Concept.
The 3-in-one Service Center with car wash and filling station is a sure to be a hit with your little one. The details on this Service Centre like all Kid's Concept Toys are wonderful; the car wash has rotating cylinders with soft coils that feel real, there are 3 small tools that can be hung are included and the petrol pump with hose that fits the tank holes in the Aiden vehicles.
Product details:
Age: 3 years+.
Size: W28.5 x H20 x L43.5cm.
Material: MDF/plywood.
Complies with EU safety standard EN71.
Kid's Concept is an established luxury children's brand with all of their unique products designed in-house. This Swedish born company designs playful and imaginative interior products and gifts for babies and children. Each concept is designed so that in a simple and creative way, a child's bedroom or playroom will be a stimulating place to play and grow and to explore the vastness of their imagination. From a rocking ride on a mammoth till playing with the wooden petit fours, each product has been carefully designed and produced by Kid's Concept.