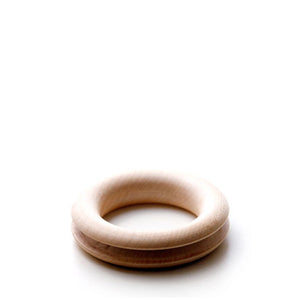 Hohenfried Wooden Rattle - Running Ring Outside
Normale prijs €28,00 Sale
2 op voorraad
Handmade wooden ring rattle from Hohenfried.
Wonderful ecological baby grasping toy with 100% love for handwork. The three balls inside the wooden rattle give off a fine, slightly rushing rattle when moving. The silky, smooth surface is finished with a natural oil so you can rest assured it is safe for little mouths, and the size is perfect for little hands to grab, hold, explore and shake. A quality rattle, made with love, that is certain to become an heirloom. Comes packaged in an unbleached cotton drawstring bag.
Product details:
Age: 0 months+.
Size: Ø 10cm approx.
Material: Handmade from local maple wood. The surface is treated with solvent-free hard oil according to Euro standard 71.
Care: If you clean this product only use a damp cloth. Please do not submerge in water and do not use disinfectant or hot water.
Made at the Hohenfried community workshops in the Bavarian Alps, the rattle is made to the specifications of the original 1930's designs by Hugo Kukelhaus, a well known German architect, educator and environmentalist, who designed a range of special baby toys which promote sensory, motor skills and the imagination. Hohenfried Heimat is an open community of learning disabled adults and children, providing sheltered accommodation, schools and employment in organic agriculture, craft workshops, gourmet kitchens and bakeries.