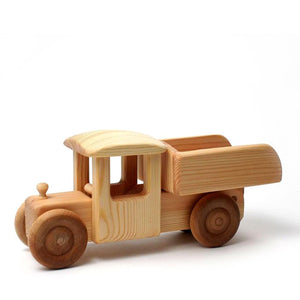 Debresk Big Tipping Lorry
Normale prijs €39,00 €39,00 Sale
Solid and simple tipping lorry from Debresk.
This natural wooden dump truck is great for plenty of imaginative play on the go..... Fill up the open-tray truck and zoom about until it's time to unload! The back of the truck tips all the way for ease of unloading. Sturdy enough to withstand a busy day's work, and durable enough to allow for generations of play! 
Product details:
Age: 3 years +.
Size: 28 x 12,5 x 10 cm ( l x h x w ).
Material: Pinewood and birch, oiled with linseed.
Handmade in Sweden.