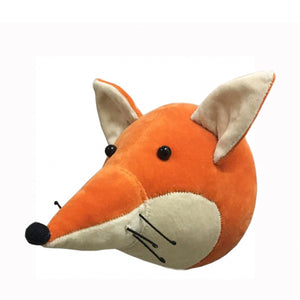 Fiona Walker Mini Animal Head - Velvet Fox
Normale prijs €40,50 €24,50 Sale
1 op voorraad
Part of the new MINI range, a beautifully crafted, ethically produced woodland friend.
Featuring a cute woodland vibe, this velvet fox head adds style to your playroom, nursery or bedroom wall. The mini fox has lots of friends in the collection, so why not mix and match as you teach your little one all about the animal kingdom.
This charming wall animal head is ethically handmade & crafted with felt and wool. Outer – 100% felted wool, inner – 100% polyfill fibre. Mounts easy to a wall with a single hook attachment. As this item is handmade it may vary slightly to the picture.
Product details:
Size: H 19 x W 17 x D 20cm approx. The animal head is handmade, sizes can vary.
Material: Outer – velvet, inner – 100% polyfil fibre.
Fiona Walker products are hand-made under fair trade guidelines.
Fiona Walker England is a beautifully designed collection of exceptional quality and values. The brand philosophy is to create uniquely hand crafted items using traditional methods and add those special finishing touches. Each item has its own individual charm and no two items are identical.