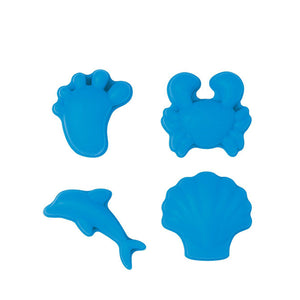 Scrunch Sand/Water Mould - Blue
Normale prijs €12,00 Sale
The Scrunch sand moulds are perfect for making shapes in the sand at the beach or in the sand pit, and great fun in the bath!
They can be squished, squashed, bent, folded and rolled up without ever losing shape. Tactile and soft to touch, Scrunch Moulds are made from non-toxic, food-grade silicone and are washable and strong - sure to last years of use. This 4 piece sandmould set includes a crab, shell, foot and dolphin. A must-have holiday item!
Product details:
Size: Each mould about 8 x 9cm.
Material: Non toxic food-grade silicone.
Color: Blue.
Washable, easy to keep clean.
Strong and durable, it'll hold its shape and look good for years.
Designed in the UK.