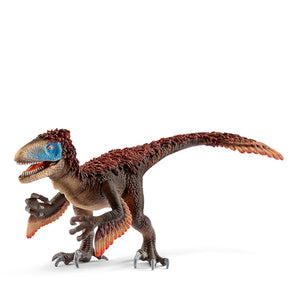 Schleich Utahraptor
Normale prijs €13,00 Sale
Dinosaur toy figurine from Schleich.
Utahraptor was a fast, agile raptor, which would hunt herbivorous dinosaurs. On the second toe of its hind foot, it had an unusually long, crescent-shaped claw. Probably it helped it to hold onto prey like Iguanodon.
Fun fact:
The hooked claw on Utahraptor's hind feet could exceed 22 centimetres in length.
Product details:
Ages: 3 years+.
Size: 19,9 x 7,5 x 9,5 cm ( w x d x h ).
Material: Plastic, hand painted.
These include the European Toy Safety Directive 2009/48/EC, DIN EN 71 and the international Standard Consumer Safety Specification for Toy Safety ASTM F963-2008.