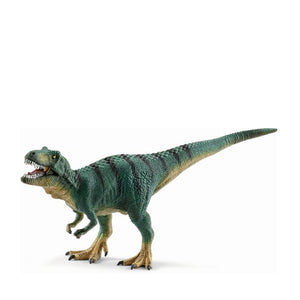 Schleich Tyrannosaurus Rex Juvenile
Normale prijs €19,00 €19,00 Sale
1 op voorraad
Dinosaur toy figurine from Schleich.
Playing? For the T.rex juvenile that means fighting dinosaurs his own age! Who's stronger? Researchers have discovered that the prehistoric lizards fought fierce fights amongst one another as early as age 10-12. At this age they were only half the size of a fully grown T.rex – but twice as daring!
Fun fact:
The T.rex juvenile is testing its limits.
Product details:
Ages: 3 years+.
Size: 23,2 x 7,1 x 9,8 cm ( w x d x h ).
Material: Plastic, hand painted.
These include the European Toy Safety Directive 2009/48/EC, DIN EN 71 and the international Standard Consumer Safety Specification for Toy Safety ASTM F963-2008.