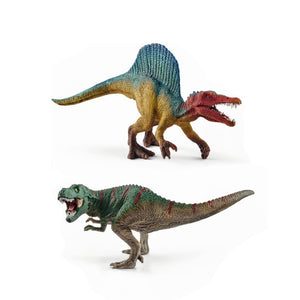 Schleich Spinosaurus and T-Rex – Small
Normale prijs €17,00 €17,00 Sale
2 dinosaur toy figurines from Schleich.
Spinosaurus and Tyrannosaurus rex rank among the largest carnivorous dinosaurs in the world. While Spinosaurus was hunting for primeval sawfish, sharks and Pterosaurs, Tyrannosaurus rex was feeding on large dinosaurs like Triceratops.
Fun fact:
Spinosaurus lived during the cretaceous period, approximately 25-45 million years before Tyrannosaurus rex.
Product details:
Ages: 3 years+.
Size: .... cm ( w x d x h ).
Material: Plastic, hand painted.
These include the European Toy Safety Directive 2009/48/EC, DIN EN 71 and the international Standard Consumer Safety Specification for Toy Safety ASTM F963-2008.