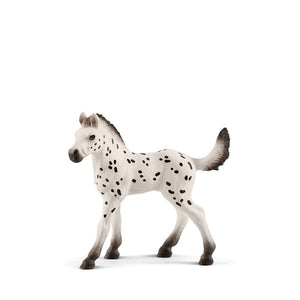 Schleich Horse - Knapstrupper Foal
Normale prijs €6,00 Sale
1 op voorraad
Knapstrupper foal toy figurine from Schleich.
Knapstrupper foals are born already with their characteristic black spots. But not all Knapstruppers look the same. Although most have a white coat under black spots, some Knapstruppers have a snowflake pattern, which is the exact reverse: white spots on a dark coat.
Fun fact:
Knapstrupper's spots undergo small changes over the years.
Product details:
Age: 3 years+.
Size: 9.10 x 3.30 x 8.20 cm ( w x d x h ).
Material: Plastic, hand painted.
These include the European Toy Safety Directive 2009/48/EC, DIN EN 71 and the international Standard Consumer Safety Specification for Toy Safety ASTM F963-2008.
Schleich number: 13890.
Founded in 1935 by Friedrich Schleich in Schwäbisch Gmünd, Schleich is one of the biggest toy manufacturers in Germany today and the leading international provider of realistic animal figures.
At Schleich they believe that promoting creativity and a rich imagination is one of the most valuable gifts you can give a child. The best part of it is: a child's creativity as well as their imagination develop almost by themselves with the right playing concepts.