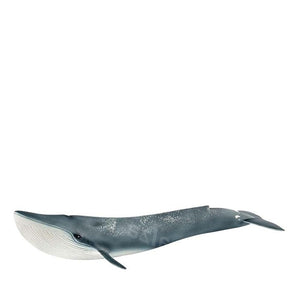 Schleich Blue Whale
Normale prijs €12,50 €12,50 Sale
Blue whale toy figurine from Schleich.
The blue whale is the largest mammal on the planet. Its tongue alone weighs as much as an elephant, and when it opens its mouth, up to 90 tonnes of water can fit into it. It also has the biggest heart in the world, weighing 180 kg and making it about as large and heavy as a gorilla.
Fun fact:
When the blue whale blasts water through its blowhole, it creates a 9-m-high fountain.
Product details:
Ages: 3 years+.
Size: 27,4 x 10,1 x 4,9cm ( w x d x h ).
Material: Plastic, hand painted.
These include the European Toy Safety Directive 2009/48/EC, DIN EN 71 and the international Standard Consumer Safety Specification for Toy Safety ASTM F963-2008.