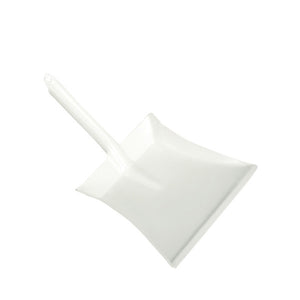 Redecker Children's Dustpan - White
Normale prijs €6,00 €6,00 Sale
Quickly and easily scoop up dust and dirt with the Redecker powder-coated children's dust pan.
Great tool for kids; sturdy handle and curved sides make easy, efficient work of scooping up dirt, dust and debris. Ideal for everyday cleaning; pair with your favorite Redecker handheld brush for a complete set. Dustpan includes a hanging loop for compact storage; simply thread a piece of wire or rope through the hole and hang on a hook behind a door or in a closet.
High-quality powder-coated metal dustpan durable enough for daily use; resistant to stains and corrosion.
Product details:
Age: 3 years+.
Size: 13 x 20cm.
Material: Powder coated metal.
Made in Germany.
The first handcrafted Bürstenhaus Redecker brushes were produced in 1935. A lot has changed since then. Today, the name Bürstenhaus Redecker stands as it has for many years for an ideal combination of natural quality, function and design. It lives from the blend of inventiveness, sound craftsmanship and creativity. Handcrafted in Germany, Bürstenhaus Redecker brushes are made of domestic woods, bristles, hair, and plant fibers, and have been for decades. Precedence is given to natural, sustainable raw materials.