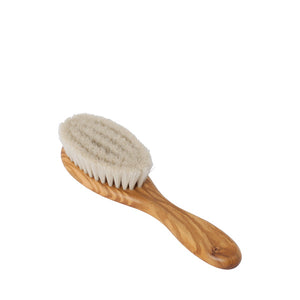 Redecker Baby Hairbrush - Olive Wood / Goat Hair
Normale prijs €14,00 €14,00 Sale
Hairbrush for babies up to 1 year from Bürstenhaus Redecker.
Provides safe, easy grooming for fine, wispy baby hair; helps to distribute natural oils for nourishment while gently massaging sensitive scalps. The soft and flexible goat hair bristles brush gently yet effectively; best for taming hair for infants up to 1 year old.
Handle made from all-natural waxed olive wood; durable enough for daily use and perfect as a unique baby shower gift. Smooth contoured handle promotes easy handling and a comfortable grip.
For maintenance, clean bristles with a mild soap and warm water solution; towel blot to remove excess moisture and air dry.
Product details:
Age: From birth.
Size: 15cm.
Material: Waxed olive wood and goat hair.
Made in Germany.
The first handcrafted Bürstenhaus Redecker brushes were produced in 1935. A lot has changed since then. Today, the name Bürstenhaus Redecker stands as it has for many years for an ideal combination of natural quality, function and design. It lives from the blend of inventiveness, sound craftsmanship and creativity. Handcrafted in Germany, Bürstenhaus Redecker brushes are made of domestic woods, bristles, hair, and plant fibers, and have been for decades. Precedence is given to natural, sustainable raw materials.