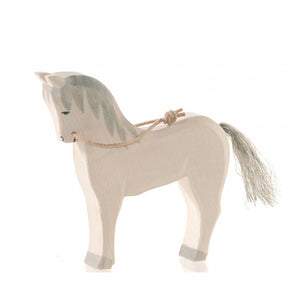 Ostheimer Horse - White
Normale prijs €24,00 Sale
This beautiful White wooden horse from Ostheimer is a magical choice for building your wooden toy collection.
Is it just a white horse? Or is it a Magical Wooden Unicorn that lost its horn when a witch cast a spell on it? We think this little white horse has something magical about it. Ostheimer toys use soft lines and minimal form to allow your child's imagination to add the detail required to bring their stories to life. This white horse is perfect for story sacks and will make a great addition to a toy farm and imaginative play scenes.
Ostheimer wooden toys have been loved by children for over 70 years. Ostheimer's wonderfully expressive wooden toys and figures are produced from hardwoods of the finest quality, such as maple, elm and ash.
Every Ostheimer figure is sanded, painted with non-toxic stain, and varnished by hand, a process which ensures that each one is absolutely unique.
Slight differences in colour and slight deviations in the structure of the grain contribute to the special charm and uniqueness of Ostheimer figures.
Product details:
Age: 3 years +.
Made in: Germany since 1940.
Size: 14 x 13,5cm (without tail) ( h x w ) approx.
Material: This figure is handcarved and -painted using natural wood and nontoxic colors that conform with the stringent European toy safety standard EN71.
In 1959, Margarete Ostheimer, a Waldorf teacher (Steiner) in Germany, designs and crafts together with her father a collection of toys, in what is today known as the typical distinctive Ostheimer style, which enliven the imagination. In her own words: "It is the fantasy of our children alone that breathes life into the seemingly stiff wooden figures, the form and colour of which purposely have been reduced to an essential minimum. It is apparent how little coaching our children need to dive into their worlds."