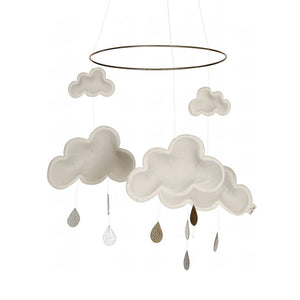 Konges Sløjd Sky Mobile - Snowberry - White/White/White
Normale prijs €40,00 €40,00 Sale
White cloud mobile by Konges Sløjd.
Breathtaking white cloud mobile with silver or gold colored raindrops from Konges Sløjd that brings tranquility into any room. Add just the right finishing touch to your baby's nursery by hanging it in your little ones room. Combines beautifully with the rest of the Konges Sløjd collection.
The mobiles are handmade, therefore variations may occur.
Product details:
Color: Clouds white. Raindrops in silver or gold and metal ring in gold.
Size: clouds 20 x 12.5cm, metal ring Ø 24,5cm and raindrops 2 x 2,5cm approx.
Material: Felt, faux leather, nylon and metal.
NOTE: It's not a toy! Only for decoration: Please keep out of reach of children.
Konges Sløjd is founded by Emilie Konge Breindal in 2014 in Copenhagen. 
Konges Sløjds design philosophy is to make stylish baby essentials, children's interior products and clothing in a sustainable way with high-quality, environmentally-friendly materials. All this to bring joy to the little ones and at the same time make visual sense to the parents.