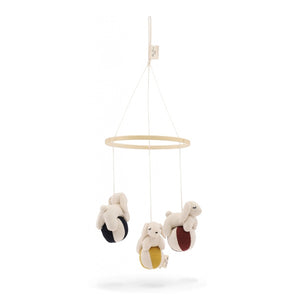 Konges Sløjd Rabbit Mobile
Normale prijs €55,00 €33,00 Sale
2 op voorraad
Baby mobile with wooden hanging ring and three small balls with cute rabbits from Konges Sløjd.
The mobile creates a calming, fairytale atmosphere in the nursery. Because the small balls with rabbits are from a knitted material, they have a soft and extra friendly appearance. Betting that the rabbits and your child will become good friends in no time?
The mobiles are handmade, therefore variations may occur.
Product details:
Color: Off white, navy, bordeaux and mustard.
Size: .....cm.
Material: 100% organic cotton.
NOTE: It's not a toy! Only for decoration: Please keep out of reach of children.
Konges Sløjd is founded by Emilie Konge Breindal in 2014 in Copenhagen. 
Konges Sløjds design philosophy is to make stylish baby essentials, children's interior products and clothing in a sustainable way with high-quality, environmentally-friendly materials. All this to bring joy to the little ones and at the same time make visual sense to the parents.