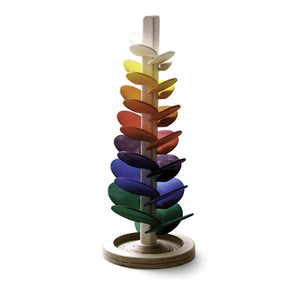 Hohenfried Sound Tower
Normale prijs €79,00 Sale
1 op voorraad
The famous marble game.
Through a marble running from top to bottom through the tower results in a sound octave. Perception and hearing train your children's hearing and attention.
The column is made of maple wood, the laths are made of sound-intensive poplar plywood and the lower plate is made of multiplex birch wood. All three components were treated with water-soluble stain and solvent-free hard oil according to Euro standard 71.
Product details:
Size: L64cm, Ø 21cm approx.
Material: Maple, Poplar plywood, multiplex birch wood.
Care: If you clean this product only use a damp cloth. Please do not submerge in water and do not use disinfectant or hot water.
Made at the Hohenfried community workshops in the Bavarian Alps, the rattle is made to the specifications of the original 1930's designs by Hugo Kukelhaus, a well known German architect, educator and environmentalist, who designed a range of special baby toys which promote sensory, motor skills and the imagination. Hohenfried Heimat is an open community of learning disabled adults and children, providing sheltered accommodation, schools and employment in organic agriculture, craft workshops, gourmet kitchens and bakeries.