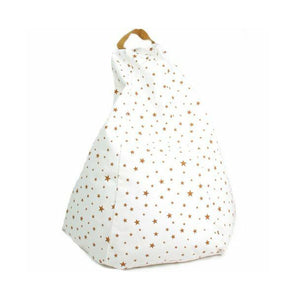 Nobodinoz Marrakech Beanbag - Mustard Stars
Normale prijs €59,95 €59,95 Sale
Marrakech kid beanbag • mustard stars.
With an hexagonal base, this kid's beanbag is perfect for the little ones to grow discovering a universe at their scale. Its comfortable seat is ideal for your kid to draw on a child's table, or to read a book quietly. Its tiny handle has been thoughtfully designed so that they can carry it wherever they want and thus develop their autonomy.
Product details:
Size: 54 x 62 x 64 cm.
Material: 100% cotton, filling 100% polystyrene and inside cover 100% polypropylene. Accessories: 50% Cotton 50% Polyester.
Color: Mustard stars.
Care: Cold gentle cycle, Do not bleach, Do not soak, Do not scrub, Do not spin dry, Iron on reverse.
Designed and made in Barcelona with care by Nobodinoz.
The vibrant city of Barcelona is the home of design label Nobodinoz. Nobodinoz stands for colour, creativity, passion, character and fun! Their designs prove popular amongst young and old. Backpacks, pencil cases, play mats, bedding, cushions, bibs, sleeping bags, teepee's, … all are covered in beautiful colours and trendy prints. The unique designs match perfectly and can be easily combined. Let's mix and match!