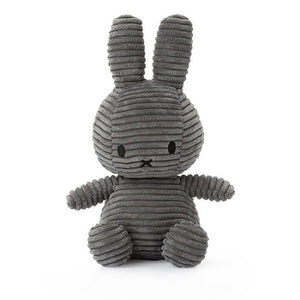 Miffy Corduroy Soft Toy – Dark Grey
Normale prijs €23,00 Sale
6 op voorraad
Just how cute are the latest edition of the Miffy soft toy range From Bon Ton Toys.
These super snuggly soft corduroy Miffy's have joined our family. This brand new plush makes a lovely gift to all Miffy fans and is suitable from birth. 
Product details:
Age: Suitable from birth.
Size: Height 33cm.
Material: Corduroy.
Color: Dark grey.
CE Certified.
Officially Licensed Product.
Miffy, the sweet little bunny, has been capturing hearts the world over since she was first created in 1955 by Dutch artist, Dick Bruna (1927-2017). What started out as a sweet tale shared with his son quickly became a worldwide phenomenon, with kids and parents alike falling for the adorable charms of Miffy and her relatable, kid-friendly story lines.
Dick Bruna created each of his Miffy illustrations by hand using pencil & black poster paint, together with primary colors. Often it could take Dick Bruna a whole day to get her expression just right in his hand drawn minimalist black graphic lines. He called his black lines "a line with a heartbeat".