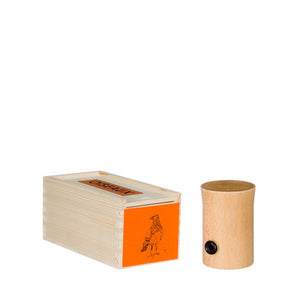 Quelle Est Belle Bird Call - Mourning Dove
Normale prijs €32,00 Sale
2 op voorraad
These beautiful and unique bird calls from Quelle Est Belle are the perfect gift for nature lovers, young and old.
They are lovingly made in a small workshop in France by Monsieur Francoice Morelle and his family. The whistles accurately imitate a wonderful and diverse range of birds and are a great way for kids to connect with nature, learning about birds, their habitat and their songs.  
Product details:
Size: Bird call 8×5cm approx, box 14x7x7cm.
Quality: Non-toxic lacquer, natural wood, and metal.
Made in France.
For a quarter of a century Monsieur Francois Morelle and the Quelle est Bell Company have been inventing and developing these bird calls.
They will bring a great joy!