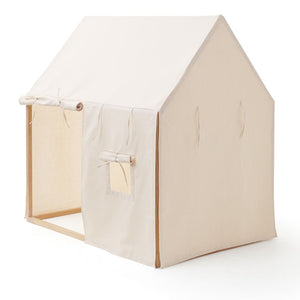 Kid's Concept Play House Tent - Off White
Normale prijs €152,50 Sale
The play house tent from Kid's Concept is made for playing and hanging out.
Take down all the sides for a complete house to play in or roll up the sides and invite all your friends to join you in the tent. Easy to assemble and to take apart again. To make the tent even cosier, match it with the foldable play mat made in the same fabric designed to fit seamlessly inside our new play tent.
Children love building cabins and creating their own little cosy den. They can amuse themselves for hours in there, with various role-plays involving cabin building and "nesting". The more pillows, blankets, and cuddly toys they can cram in there, the cosier it becomes. In their imagination, their den can become anything - a playhouse, a shop, a library, or simply a cosy cabin. If it's a rainy day, move the tent indoors to create a cosy outdoor feeling indoors.
Product details:
Age: 3 years+.
Size: L110 x W84 x H124.
Material: 100% Cotton/Pinewood/Polyethylene.
Care: Spot cleaning. Dust clean the fabric by airing the fabric or vacuum clean gently.
Kid's Concept is an established luxury children's brand with all of their unique products designed in-house. This Swedish born company designs playful and imaginative interior products and gifts for babies and children. Each concept is designed so that in a simple and creative way, a child's bedroom or playroom will be a stimulating place to play and grow and to explore the vastness of their imagination. From a rocking ride on a mammoth till playing with the wooden petit fours, each product has been carefully designed and produced by Kid's Concept.
Note: For a shipping quote of the Kid's Concept Play House Tent  outside the EU please send us an email: info@elenfhant.com before placing an order.