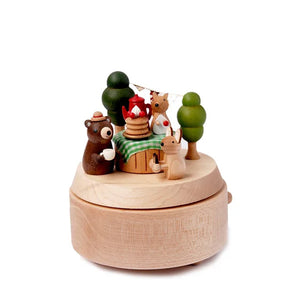 Wooderful Life Wooden Music Box - Forest Picnic
Normale prijs €75,00 Sale
Darling birthday party music box that plays "Turkey in the Straw" by Wooderful Life, wood base and figures, playing in the woods....wood base has typical natural variations of wood and handcrafted items.
Combining traditional techniques with modern technology, this music box does not need batteries. To rotate the birthday table, turn the winder under the music box. A knob at the side lets you stop and restart the music any time for added control.
Due to its delicate mechanism, we recommend keeping this on a shelf out of young children's reach.
Music: Turkey in the Straw.
Product details:
Size: Ø10cm approx.
Material: Sustainably-sourced timber. This item is handmade; therefore it may have colour variations and slight imperfections. These imperfections are inherent to handcrafted items and enhance the natural beauty of the material.
Handle with Care: Please handle your Wooderful Life Music Box with care, as small parts may present a choking hazard for young children.
Wooderful life's handcrafted wooden music boxes will transport you back in time. Listen to the delicate melody and be mesmerized by the intricate moving parts. These beautiful wooden designs are inspired by beloved tales and special moments in life. Celebrate your significant milestones and honour precious memories. It's a perfect gift for any special occasion. Your loved ones will feel truly special with a wonderful gift from Wooderful Life.