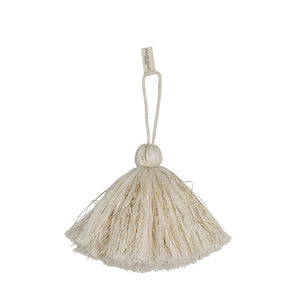 Bonét et Bonét Tassel - Raw
Normale prijs €12,00 Sale
2 op voorraad
Pretty Bonét and Bonét tassel in Raw.
The tassel will add a little warmth to your decoration. Attached to your door handle in the living room or to your baby's bed, it will give the space a little touch of elegance. A decorative accent that parents will like and that children would be delighted to keep in their room for years to come. Feel free to mix it with the other beautiful Bonét and Bonét tassel colours.
The raw colour is very soft and natural, the detail of the lurex gives the tassel volume and elegance.
Product details:
Material: Oeko-tex® cotton and lurex.
Size: Tassel size 10cm string 6cm.
Bonét et Bonét is a Danish brand that designs accessories and clothes made of organic materials for children and adults. Their goal is to create products that are durable in materials and design. Carefully selected organic and ultra-soft materials are chosen to ensure the maximum well-being for you and your child by using and wearing Bonét et Bonét products.